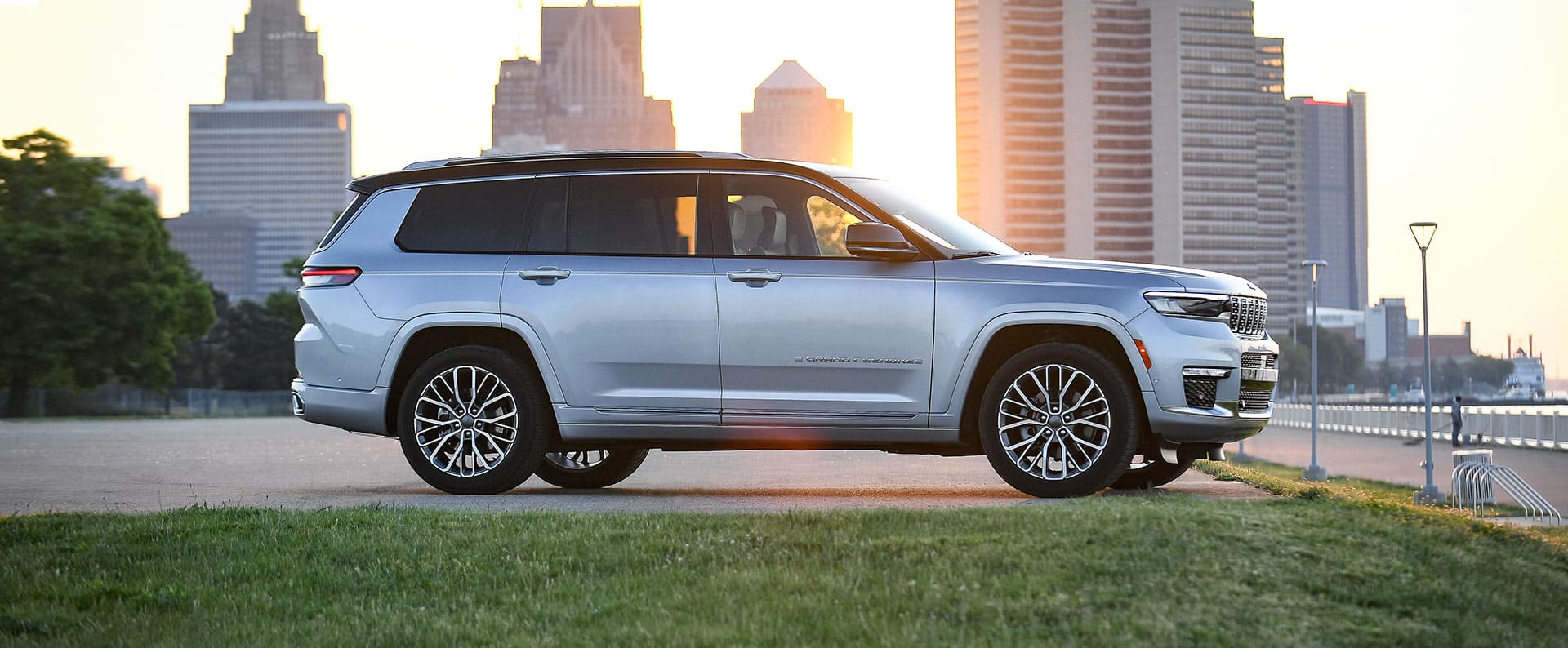 Top Accessories for the 2021 Jeep Grand Cherokee L
Make The Most of your Three-Row SUV!
The 2021 Jeep Grand Cherokee L is a revolutionary release for the Jeep heritage brand, providing three rows of seating on a Grand Cherokee for the first time ever. Not only does this give you the option to drive with more friends and family, but it also gives you the space you need to carry more cargo, like camping equipment, luggage, groceries, and anything else you can fit! Plus, the Jeep Grand Cherokee L has a maximum towing capacity of up to 7,200 pounds, so you can tow even more things along for the ride. Inside, the Grand Cherokee L has a finely crafted interior with lots of elegant touches like Nappa leather and real walnut wood. With a few simple additions, you can protect your Grand Cherokee L, maximize its storage potential, and even enhance its capabilities. Keep reading down below to learn more about the best Mopar accessories for the 2021 Jeep Grand Cherokee L!
Protection and Safety
To help keep the floors of your Jeep Grand Cherokee L looking crisp, clean, and good as new, consider opting for one of the available floor mats. There's one mat that's specifically for the rear cargo area, which will allow you to pack all your belongings without worrying about damaging the floor in any way. You could also go for the rubber floor mats which protect the footwells from dirt and debris from shoes and other personal belongings. That way, the whole family can go out and enjoy whatever adventure awaits knowing that the rubber mats can be easily cleaned. To keep everyone safe, there are also a variety of safety kits, from your standard first-aid essentials, to a roadside kit that includes safety cones and other reflective gear.
Cargo Mat
Rubber Floor Mat
Safety Kit
First Aid Kit
Performance & Towing
To keep your Jeep Grand Cherokee running good as new, it's important to pay attention to the little things. By replacing smaller parts and pieces, you can avoid larger repairs down the road, and increase your car's longevity. You can order parts like new wiper blades, valve stem caps, and even spark plugs, all available on the Mopar eStore. There are also special towing accessories that will help you get the most out of the Grand Cherokee L's outstanding towing capacity. Use the tow hitch adapter and tow hitch ball in various sizes to help create a secure connection while towing. The various sizes allow you to hitch up to multiple different types of gear knowing the connection will be safe and secure.
Spark Plug
Wiper Blade
Tow Hitch Adapter
Tow Hitch Ball
Storage Solutions
If you want to make the most of your Grand Cherokee L's storage area, it's worthwhile to add a few accessories to keep everything organized! For example, the storage tote has four different compartments to help you sort your belongings. There's also a cargo net that will tie down anything placed beneath it. You can use it both inside the trunk, and outside the vehicle on the roof, and in both cases the net will help keep your things from shifting during your drive. There's also a rooftop cargo carrier for smaller items that you'd like to stow on top of the vehicle, and a travel pet crate so that your pets always have a space to safely lay down and relax!
Storage Tote
Pet Crate
Cargo Net
Roof Cargo Carrier
Rooftop Sports Racks
If you're driving the Jeep Grand Cherokee L, especially the rugged Overland trim, there's a good chance you share the SUV's athletic and adventurous spirit! If this is the case, then you'll be happy to learn that there is a wide variety of different rooftop racks that are specially designed to protect all your sports equipment. Whether you're bringing kayaks, surfboards, skis, snowboards, or bikes, there's a rack that will make sure each and every piece of gear is held tightly to the roof. You won't ever need to struggle with ropes or bungee cords to hold down these bulky items. Let the Jeep rooftop accessories do the work for you!
Kayak Rack
Surfboard Rack
Winter Sports Rack
Bike Rack
Find Your Accessories at Shively Motors of Shippensburg!
With just a few small accessories, you can really personalize your Jeep Grand Cherokee L to suit your needs. To find all these accessories and more, simply visit the Mopar eStore to browse by category. To order parts, you can click on the "Service and Parts" tab right here on our website. You can also schedule a service appointment online using the online service scheduler, and our expert mechanics will install all your parts and accessories. If you have any questions, or want additional information on what parts might be best for you, feel free to call or visit us here at Shively Motors of Shippensburg, Pennsylvania. We look forward to hearing from you!